WINDOW INTO THE PAST #5: A TRILLION TONS OF TUNA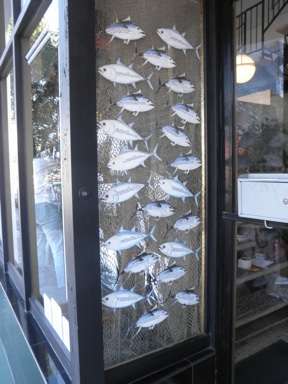 Location:
P & M Mgmt. Building,
395 W. 6th Street, San Pedro, CA
The 1890 census listed 113 fishermen in San Pedro from: 
Belgium – 2
Canada – 2
Denmark – 1
England – 7
Finland – 3
Germany – 8
Italy – 26
Japan – 12
Norway – 3
Portugal – 11
Russia – 1
Scotland – 6
United States – 16
Yugoslavia – 14

"A Trillion Tons of Tuna": San Pedro's Famous Fishing Industry
1914 – 150 Japanese fisherrmen were operating 50 of the 131 total tuna vessels in San Pedro
1916 – The purse seiner was introduced.
A seine is a fishing net that hangs vertically in the water with its bottom edge held down by weights and its top edge buoyed by floats. A common type of seine is a purse seine, named such because along the bottom are a number of rings. A line passes through all the rings, and when pulled, draws the rings close to one another, preventing the fish from escaping the net.
1916 –  Nearly 400 small motor boats manned by 1200 men were engaged in tuna fishing.
1917 – Peak year of albacore fishing with 34 million pounds caught.
1918 – diversified from albacore: bonito, striped tuna, bluefin and yellowfin.
1927 – a fleet of sea-going tuna boats was built to fish in waters beyond the limits of Mexican jurisdiction.
1929 – San Pedro brought in 1/4 of the total catches in the US with a total of 857 million pounds. It provided a livelihood for some 5,000 workers with an annual payroll of more than $7,000,000. 3/4 of the over 1,800  commercial fishermen were foreign born.
850 different boats delivered catches of fish and of them 700 were registered at that port. Varied in size from 15-foot motor boats to converted vessels 167 feet in length.
1930 – Peak year of tuna fishing – 40% of California's total was caught in San Pedro.
1933 – $100 to $110 per ton of tuna; cannery workers received $3 to $6 per day.
1935 – 6,000 people were directly employd in the fishing industry. Payroll= $750,000 per month.
1939 – Fishing and cannery workers numbers more than 6,000 with a combined payroll of $6.75 million.
1942 – 60% of the tuna clippers were used by the Navy to supply the troops in the isolated garrisons of the South Pacific. By June 1942, all remaining fleet were the screening force to prevent a surprise attack on the West Coast and the Panama Canal.
1946 Tuna canning in LA Harbor became the largest in the world following WWII.
1950s – 80% of the 12 million cases of tuna prodced in the US.
– adjustable depth adriatic purse seine invented by Jerry Bogdanovich
1953 – Mario Puretic invented the Puretic power block which revolutionized the fishing industry in such a way that no single invention has contributed more to the success of purse seine net hauling.
1955 – Mike Newell and John Resich developed a spray refrigeration for fish holds.
1956 – Anton Misetich was the first to use Nylong nets, which, in conjunction with the Puretic power block, revolutionized the tuna fishing industry.
The tuna fleet endured many difficulties in the 70s, 80s and 90s due to a variety of reasons:
2001 – Chicken of the Sea tuna canning plant closed its doors. It was the last tuna fish canning operation in the continental US.