"Windows Into the Past" Project & Walking Tour:
San Pedro Bay Historical Society  commemorated San Pedro's 125th Anniversary by creating a series of historical exhibits and displays in downtown business windows. The windows, framed in an attractive art deco design, created a walking tour that was a destination in itself and of high interest to history lovers.
You began your tour at 6th and Harbor Boulevard, walked west on 6th Street to Pacific where you would turn left (south) to see the "From Croatia to San Pedro" display at the Croatian Cultural Center, then you would head east on 7th Street down to the Municipal Building and Peppertree Plaza.
Map:  http://www.sanpedrobid.com/wp-content/uploads/2013/03/WalkingTour.pdf
*Most Windows have been removed since the printing of the map, but you can enjoy them here as they were when they were first displayed.*
Here is a sample of the attractive and educational Windows Into the Past…
         Location: Norman's
          371 W. 6th Street, San Pedro, CA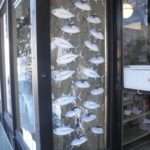 Location: 395 W. 6th Street, San Pedro, CA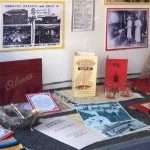 Location: Sweet Susie's
       437 W. 6th Street, San Pedro, CA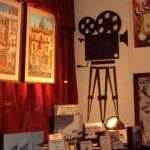 " Reel San Pedro "
            Location: Grand Vision Foundation
            434 W. 6th Street, San Pedro, CA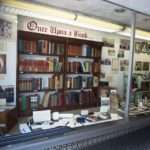 " Once Upon a Book…San Pedro Libraries"
             Location: 415 W. 6th Street, San Pedro, CA
             Location: 447 W. 6th Street, San Pedro, CA
          Location: Le Grand Salon
          479 W. 6th Street, Suite 102, San Pedro, CA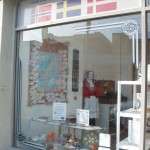 "From Scandinavia to San Pedro"
        Location: TangerineKangaroo & Gallery Neuartig
        366 W. 7th Street, San Pedro, CA