WINDOW INTO THE PAST #6:
FROM SCANDINAVIA TO SAN PEDRO
Location:
TangerineKangeroo & Gallery Neuartig –  366 W. 6th Street, San Pedro, CA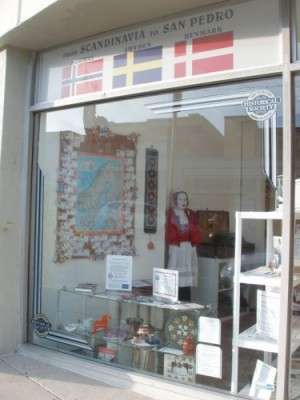 IMMIGRATION
John and Pete Andersen were the first Norwegians to settle on Barton Hill, arriving in 1883 to go into the lumber business.   The 1890 census showed that, of the 113 fishermen  listed,  three  were  from Norway, one from  Denmark  and  one  from  Finland.    Fishing continued to be an important part of Scandinavian life.
In 1825,  the  sloop  "Restauration"  arrived in New York with 52 Norwegians  aboard.  They were the first organized group of Norwegians to arrive in America. King Olav V visited San Pedro in 1975 to commemorate its 150th anniversary.
The  shipping  industry,  cargo ships,  lumber boats, Merchant Marines  and  cruise  ships brought many Scandinavians to San Pedro. Women were recruited from Scandinavia as au pairs, working as assistants for host families. Many met and married American men, becoming proud United States citizens.
A SWEDISH LOVE STORY:
Lars Oscar Jacobsson was only 11 when he left his native town of Oja in Gotland to sign up for sea duty as a cabin boy.
Three years later, in 1880, he jumped ship in San Pedro, hid in a basement until his angry ship captain set sail, and in time started the Oscar Jacobson Transfer Company.
During the week he moved freight, lumber and pianos, but on Sundays he put a comfortable leather cushion on his wagon seat so he could transport visitors arriving at the Red Car Depot. One fine Sunday, he took a family from Los Angeles to Point Fermin for a picnic. They had with them a young au pair from Smaaland, Sweden, by the name of Alida Erika Carlsson…
It was love at first sight. They married, raised two sons, Walter and Carl, both career postal workers, and eventually had four grandchildren, two of whom continue to live in San Pedro to this day, Alvin Jacobson and Barbara (Jacobsen) Short
DID YOU KNOW?
- "Bunad" is the name given to traditional Norwegian clothing. Each region has its own unique style.
- Rosemaling is the name given to Norwegian decorative painting. It dates back to the 1750s.Artists who specialized in rosemaling often came from poorer classes. They would travel from county to county painting churches, homes and furnishings for a commission of either money or merely room and board.
- The
Swedish Vasa Order's 
local chapter was formed in 1913 as a fraternal society for immigrants who needed to learn English and the ways of the new country.
- The Norwegian Society was formed in 1915 as a local fraternal society with 14 members. Yearly dues were 10¢ per member. In 1926, they dissolved and joined The Order of the Sons of Norway.- The English language was first used at The Order of the Sons of Norway in 1942 .
- The Norwegian Church acted as post office, communication center, and banker for visiting sailors.  At one time there was over $1,000,000 in the church bank account! Interest earned from sailors' banked paychecks helped in large part to build the new church.
- There was a Royal Norwegian Consulate office in San Pedro.
- Whenever you see a birch tree in a San Pedro yard, the odds are that the home is owned by a Norwegian.
- There are nearly as many Norwegians in the United States – 4.5 million – as there are in Norway where their population is approximately 5 million.
- King Olav  V of Norway visited San Pedro on October 24, 1975. The visit was part of  a 25-day tour of the U.S. to commemorate the 150th year of Norwegian immigration to this country.
- San Pedran Eva Gustavson was a Norwegian contralto who had an active international performance career in operas and concerts during the 1940s and 1950s. She immigrated to the U.S. in 1949 and moved to San Pedro in the mid-50s. She had a second career as a voice teacher at the University of Southern California for 17 years. In 1977, she was honored by the King of Norway with the Royal Norwegian Order of Olav.
~ SCANDINAVIAN RESOURCES  ~
Norwegian Seamen's Church & Cultural Center:
1035 S. Beacon Street, San Pedro          (310) 832-6800
~ Church services & Bible study groups,
~ Celebration of Scandinavian holidays & national days
~ Traditional Foods & Lordagsgrot "Saturday Porridge"
~ Store selling food items, fresh bread, and craft items
~ Community meeting area; Parent & Child meetings
~ Hygga Club, a support group for the church
~ Library & Newspapers
~ Pizza & Billiards night
~ Monday Women's Club
~ Knitting Club
~ Annual Golf Tournament between church and SCAN
Church of Sweden, Los Angeles
(based at the Norwegian Seamen's Church)
~ Church services & Swedish choir
~ Svenskafton – Senior group
~ Viking Lodge Order of Vasa meetings
~ "Dala" horse in church garden
~ Lucia Festival
Scandinavian Center at Nansen Field (SCAN):
15 Hidden Valley Road, Rolling Hills Estates
~ Sons of Norway – Ulabrand Lodge
~ Sportsklubben FRAM Soccer
~ Norwegian Fish Club – Fiskeklybben
~ Swedish School of South Bay
~ Icelandic Association of Los Angeles
SAN PEDRO SCANDINAVIAN BUSINESSES OVER THE YEARS:
Al Larson Boat Shop - 1046 S. Seaside Ave
Bower's Music – 810 S. Gaffey – S. & S.G. Simonsen,
Floyd Office Machine Co. – Vern J. Booher
Floyd Stationery Co. – 455 W. 6th St. – Julius Eichhorn
Fred Olsen Shipping Co.
Halverson-Leavell Mortuaries – 576 W. 6th St.
Harbor Electric Co. of San Pedro, Inc. – 1134 S. Pacific – F. Craig Ritter, Leon A. Dayton, Edgar O. Hansen
Harbor Office Supply – 438 W. 7th St. – Geo. L. Anderson & Vincent Zabica
Klaveness Shipping Line
Logan & Baardsen Travel Service – 811 S. Gaffey – Irwin Logan & Sigmund Baardsen
Modern Insurance – 1501 S. Gaffey – B.P. Huckins, Curt C. Higgins
Norwegian Bakery & Deli
Olsen's Restaurant - 589 W. 9th St. – I.H. Olsen
San Pedro Florist – 1701 S. Pacific -Mr. & Mrs. Joseph A. Johnson
San Pedro Market - Front St. near 5th St. – E.R. Erickson
San Pedro Motors, Inc. – 1600 S. Pacific – R.B. Iverson
Sandinavian Bakery & Imported Foods – 362 W. 6th St. – Olaf Kristiansen
Seaboard Motors 1831 S. Pacific – Frank K. Swift
Seaside Supply Stores – 803 S. Palos Verdes St. -E. Richter, R. Sannes